Introduction
The electric guitar music industry has used the same technology, a direct radiator loudspeaker for 70 years. It is time for something disruptive, the first flat panel guitar speaker cabinet.
Tone is most important, clean tones need to be clear and detailed and lead tones need to powerfully convey the setup of your instrument, amp, and pedals.
The Model Twenty

The revolutionary Model Twenty has the diaphragm "cone" area of a 4 x 12 cabinet, but weighs half as much as a 1 x 12 cabinet. It disperses sound around the audience much better than a traditional guitar cab, if you play Electric Guitar, Acoustic Guitar, Keyboards, Sax, or Synthesizers in a band other members will hear you clearly and your tone will be the same for everyone in the audience.
Back of the cabinet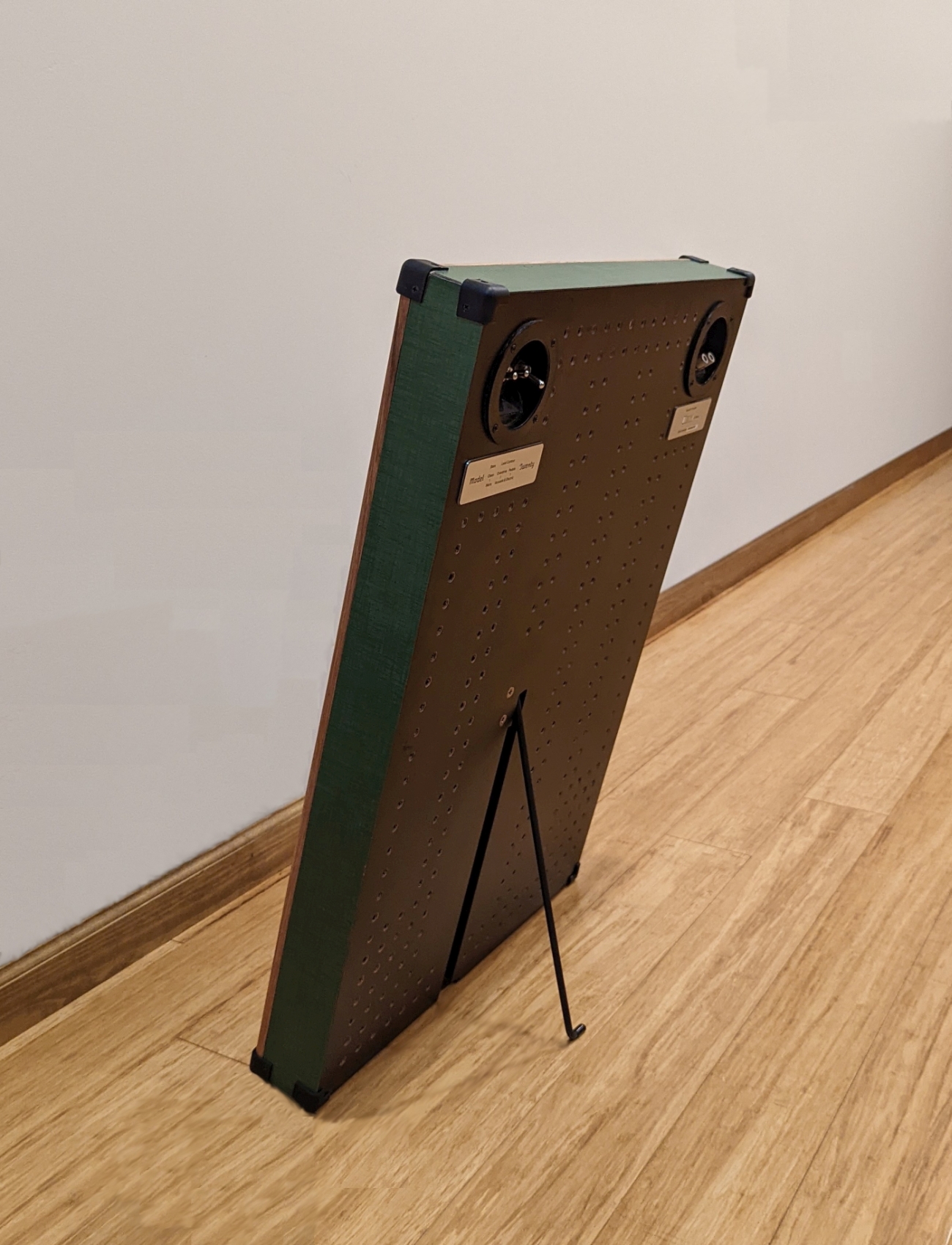 The model 20 is an open back design that plays an octave lower and an octave higher than a traditional guitar speaker cab. Switch selectable settings optimize the performance, clean for acoustic guitar or other instruments and two lead settings for electric guitar tone.
A retractable kick stand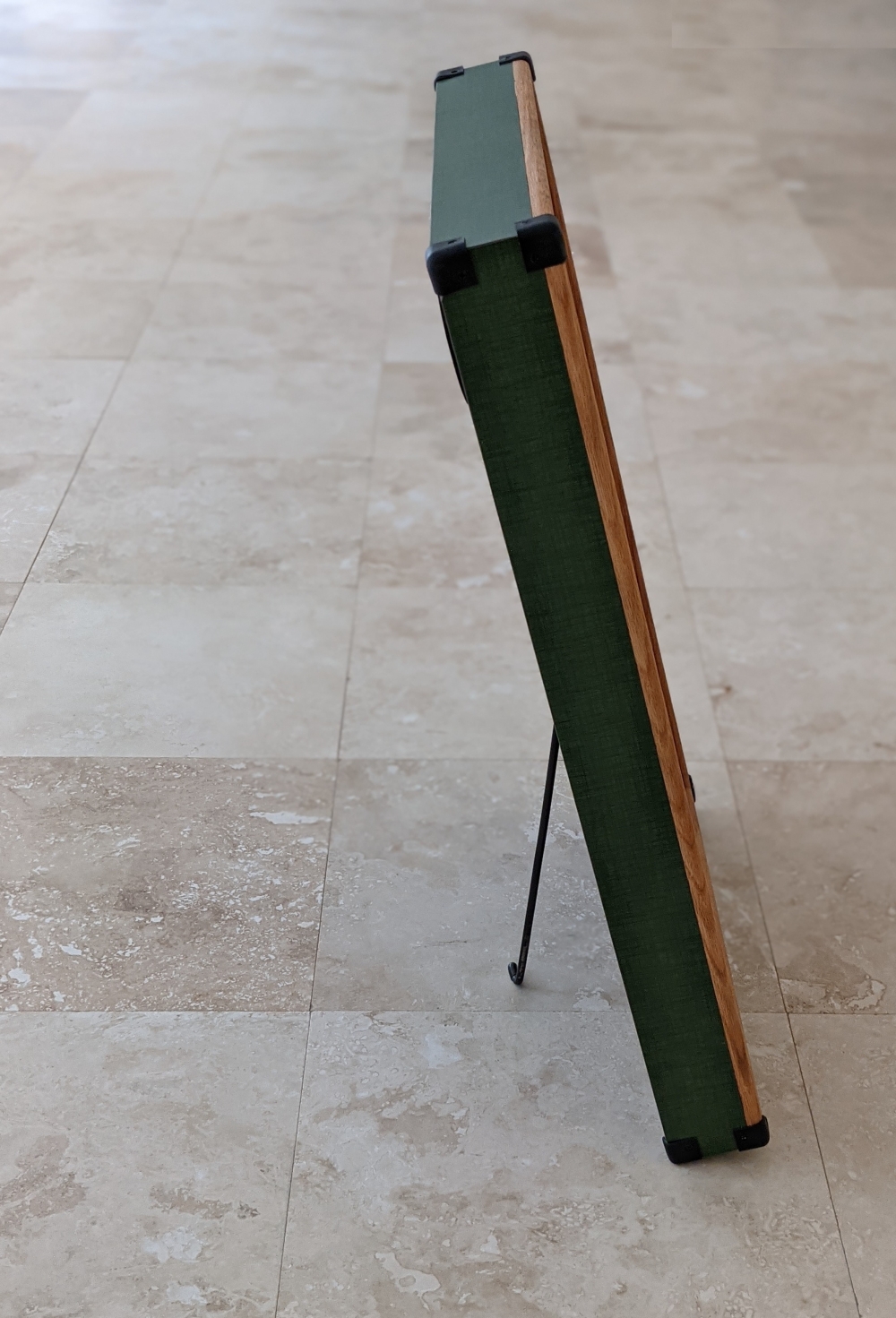 A built in kick stand pivots and retracts into the back of the speaker which allows easy transport
This patented revolutionary design is half the weight of a conventional guitar cab, about half as thick as a typical guitar case, is easy to transport and has a better presence on stage while taking up much less space. It can be used free standing, or against a wall.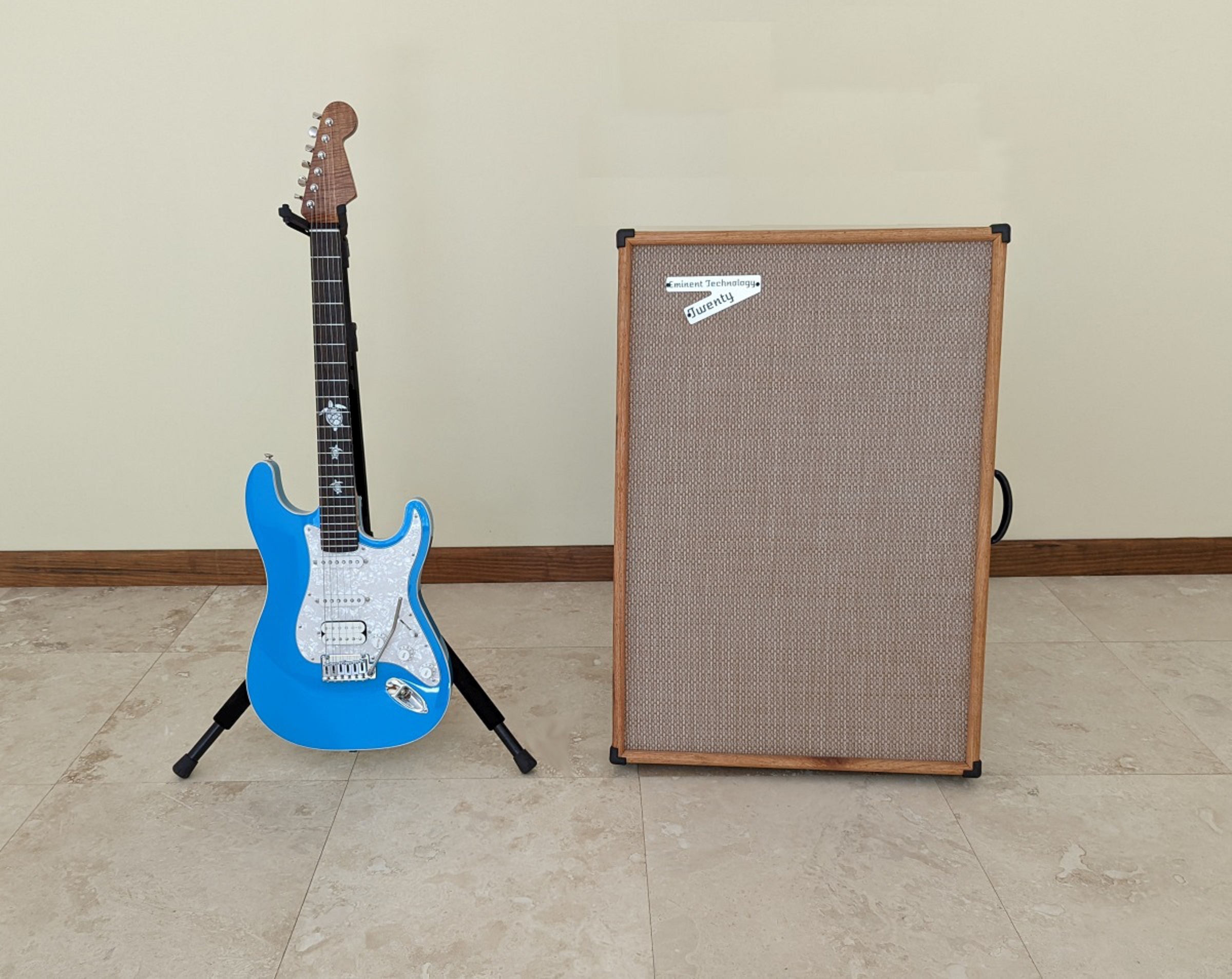 View of Inputs and Tone Switches
Electrical inputs are the upper right hand corner and tuning switches are on the upper left hand corner. Tuning switches are for bass cut, clean and lead sounds. For lead guitar you might want to use the bass cut and either of the treble cut settings. For other instruments like, keyboards, synthesizers, saxophones, violins, or wind instruments, you might want the full range capability of the Model Twenty.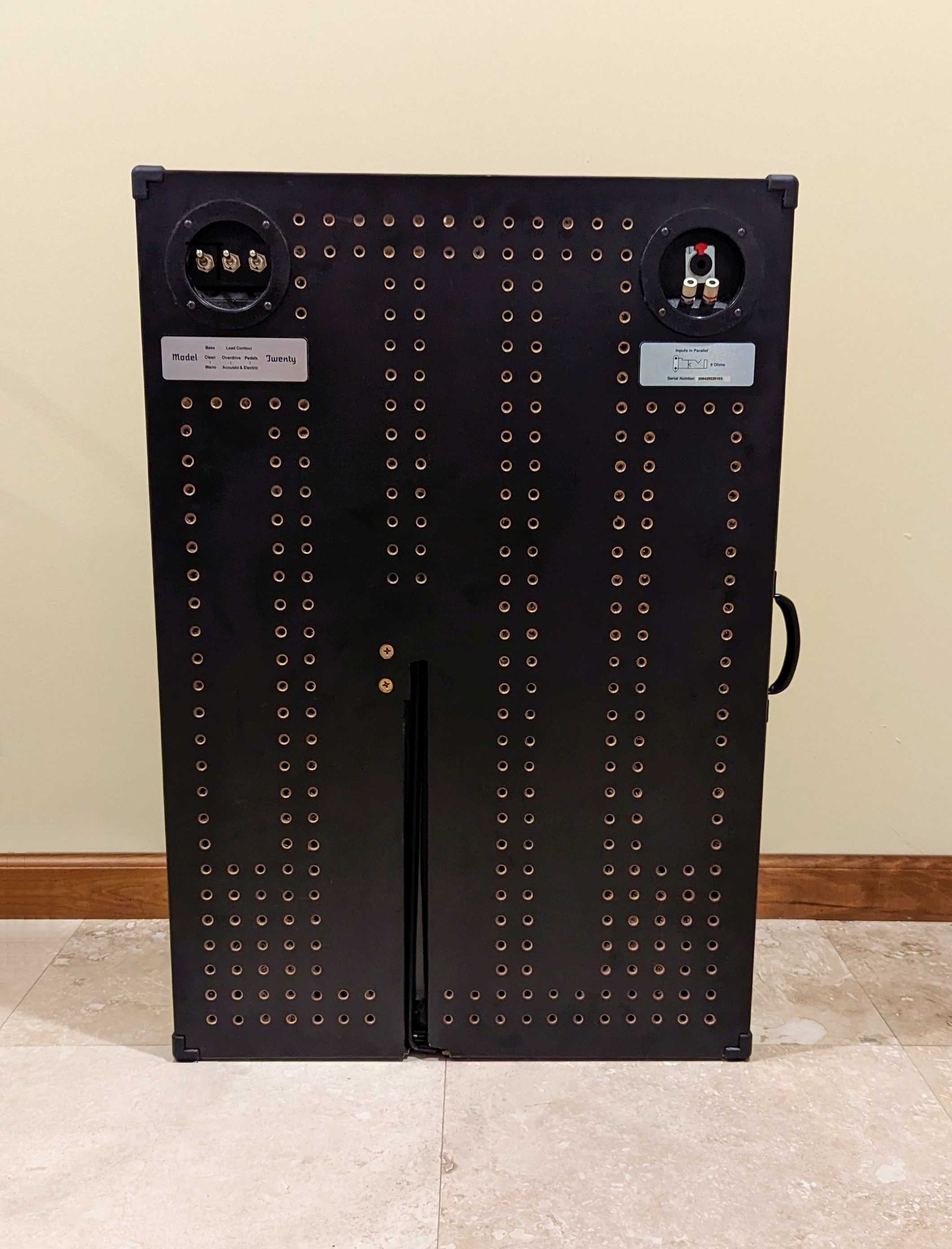 Green Tech
The Model Twenty takes up one third the floor space and is 1/2 the weight of a typical 1 x 12 cab.
While the diaphragm area of the Model Twenty is similar to a 4 x 12 cab, The materials and wood products used in fabrication are much less than even a 1 x 10 cab.
As we develop fun new products around this technology, a stage monitor , bass guitar, and PA system, are planned, your bands stage presence will look impressive with a substantial weight and transport cost savings.
Specifications
Specifications: Weight 21 pounds, Height 32 inches, Width 22 inches, sensitivity 99dB - 2.83V at 1 Meter, recommended power 20 -100 watts, impedance 8 ohms, Price $2600.00 each, price includes shipping.
Science


For a better understanding of the electrical characteristics and science of guitar tone, measurements of the Model Twenty, and how it compares to conventional guitar speaker cabinets, technical details can be viewed here:
Guitar World Magazine
Guitar World Magazine and Online Web Site was kind enough to write a news article about the Model Twenty
This is the Link
Eminent Technology
Eminent Technology has been in business 39 years designing and manufacturing audio products in Tallahassee Florida
How to Purchase
For purchase inquiries or more information contact: infoATeminent-tech.com replacing AT with the @ sign
More Links