Introduction
The electric guitar music industry has used the same technology, a direct radiator loudspeaker for 70 years. It is time for something innovative, the first flat panel guitar speaker cabinet is also the first green technology loudspeaker.
Tone is most important, clean tones need to be clear and detailed and lead tones need to powerfully convey the setup of your instrument, amp, and pedals.
NAMM 2023
The Model Twenty received a NAMM 2023 Best in Show Award! A web page about our exhibit is coming soon.
Tomo Fujita comments on the Model Twenty!
"Here is a clip with a flat speaker cabinet Eminent Technology model twenty (through my Fender Bassman head) It sounds so clear that it made me want to practice! This reminds me amazing water at Hida Takayama Japan! (The most amazing taste water ever I drink!) Please watch this video. I thought I stopped the video but actually it went another 23 minutes of playing!"
Tomo's Youtube Model Twenty unboxing video!
About The Model Twenty

The revolutionary Model Twenty has the diaphragm "cone" area of a 4 x 12 cabinet, but is much more convenient and weighs half as much as a 1 x 12 cabinet. It disperses sound around the audience better than a traditional guitar cab, if you play Electric Guitar, Acoustic Guitar, Keyboards, Sax, or Synthesizers in a band other members will hear you clearly and listeners will not need to be directly in front of your band to get impressive sound, your tone will be the same for everyone in the audience.
Back of the cabinet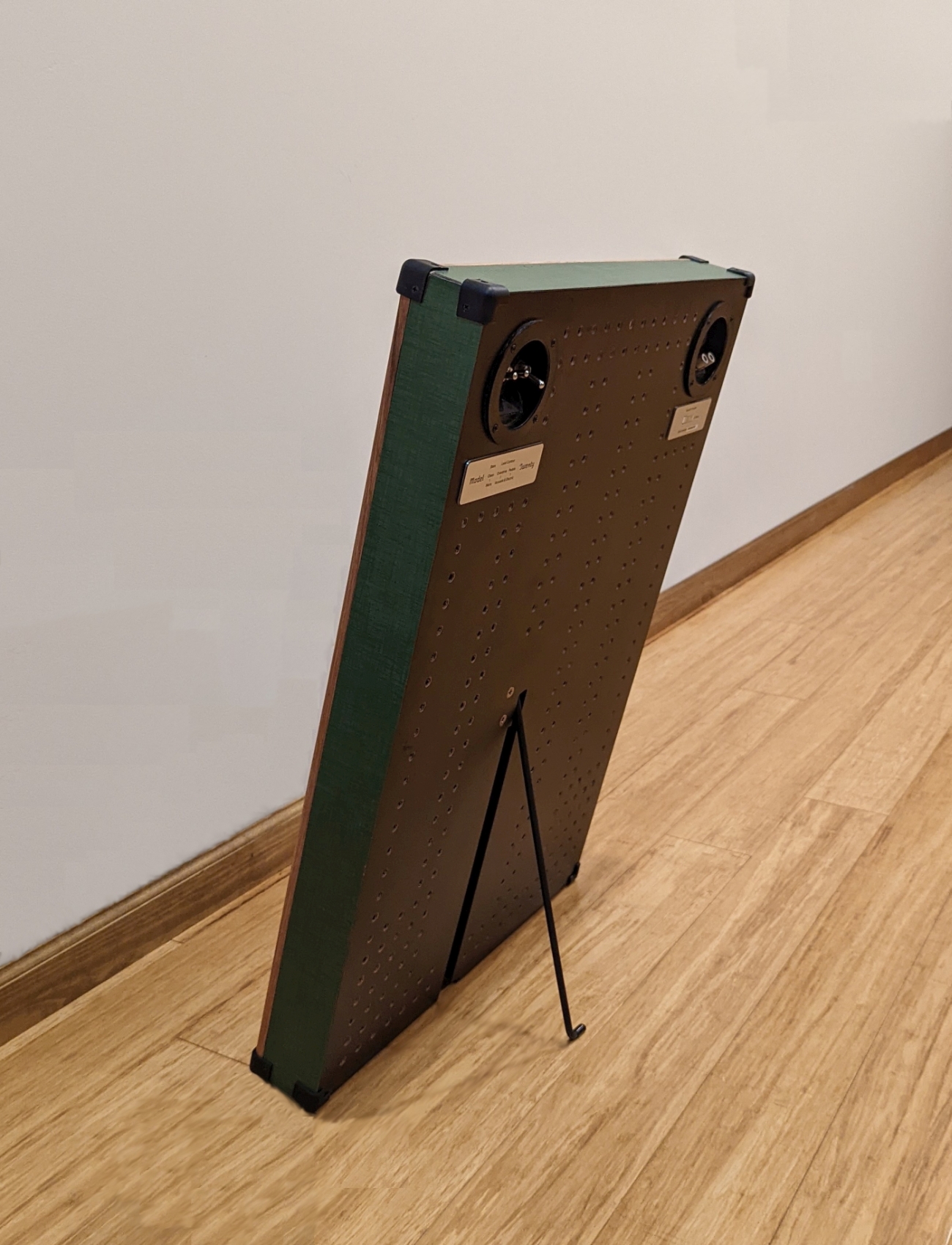 The model 20 is an open back design that plays an octave lower and an octave higher than a traditional guitar speaker cab. Switch selectable settings optimize the performance, clean for acoustic guitar or other instruments and two lead settings for electric guitar tone.
A retractable kick stand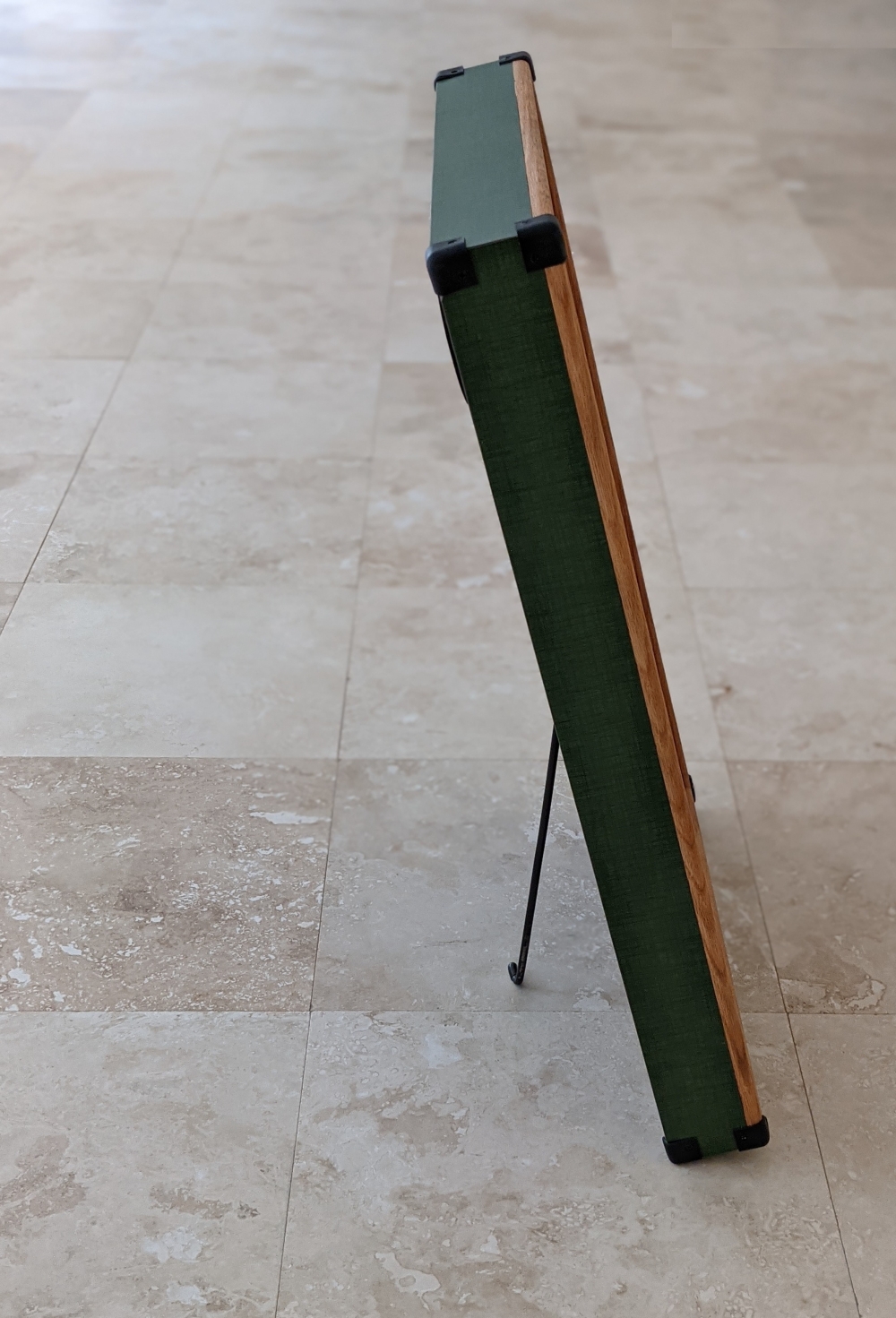 A built in kick stand pivots and retracts into the back of the speaker which allows easy transport
This patented revolutionary design is half the weight of a conventional guitar cab, about as thick as a typical electric guitar case, is easy to transport and has a better presence on stage while taking up much less space. It can be used free standing, or against a wall.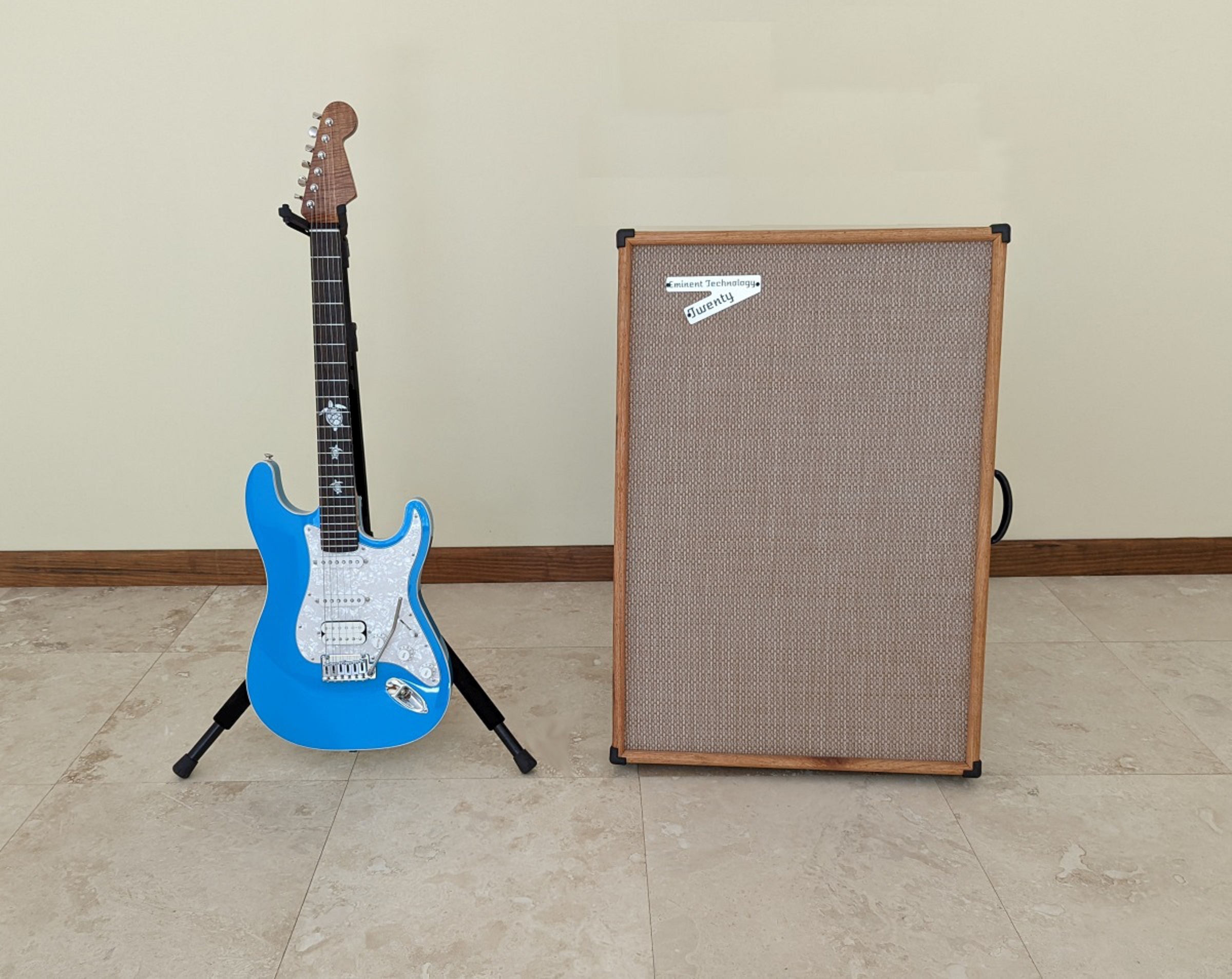 View of Inputs and Tone Switches
Electrical inputs are the upper right hand corner and tuning switches are on the upper left hand corner. Tuning switches are for bass cut, clean and lead sounds. For lead guitar you might want to use the bass cut and either of the treble cut settings. For other instruments like, keyboards, synthesizers, saxophones, violins, or wind instruments, you might want the full range capability of the Model Twenty.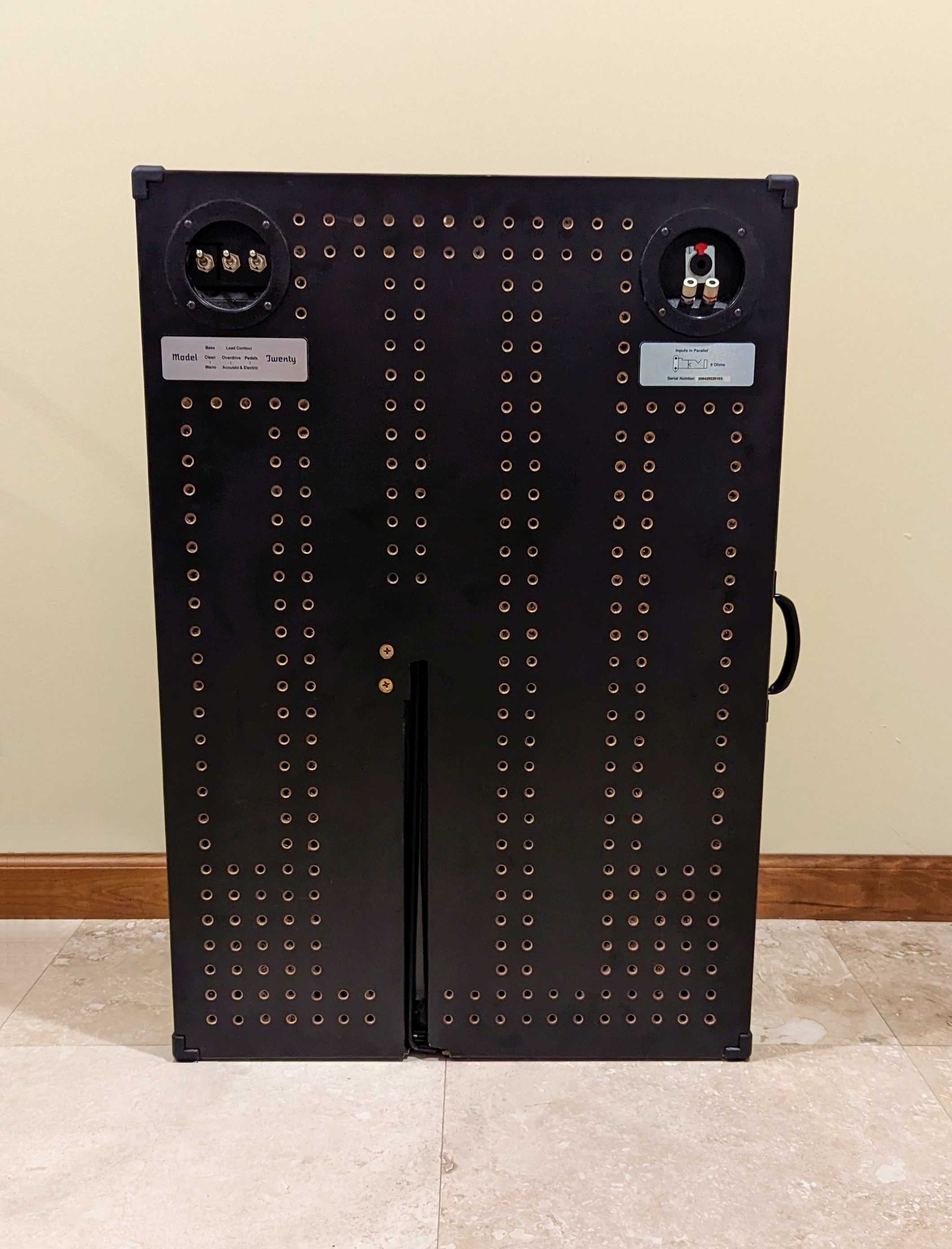 The First Green Tech Loudspeaker
While the diaphragm area of the Model Twenty is similar to a 4 x 12 cab, The materials and wood products used in fabrication are much less than even a 1 x 10 cab significantly reducing materials consumed during production.
Since transport fuel to move equipment consume much more energy than the electricity a band uses at a gig, by removing the need for a trailer or a van, adoption of this technology will significantly reduce the carbon footprint in the performance side of music industry.
As we develop fun new products around this technology, a stage monitor (link below), bass guitar, and PA system, are planned,your bands stage presence will look impressive with a substantial weight and transport cost savings.
What Customers Say
"I just wanted to let you know that my Model Twenty arrived safe and sound and is playing like a dream."
"I am very pleased and have already begun to spread the word around. Hopefully this will drive more business your way and get the musician community to start using these innovative speakers."
"Thanks for being a solid communicator and trustworthy purveyor throughout this process. I took a chance on this and it paid off."
Specifications
Specifications: Weight 21 pounds, Height 32 inches, Width 22 inches, sensitivity 99dB - 2.83V at 1 Meter, recommended power 20 -100 watts, impedance 8 ohms, Price $2600.00 each, price includes shipping.
Science


For a better understanding of the electrical characteristics and science of guitar tone, measurements of the Model Twenty, and how it compares to conventional guitar speaker cabinets, technical details can be viewed here:
New Atlas
The New Atlas Online Web Site was kind enough to write a news article about the Model Twenty
Here is the Link
Guitar World Magazine
Guitar World Magazine and Online Web Site was kind enough to write a news article about the Model Twenty
This is the Link
How to Purchase
You can purchase directly from us with a personal check or Paypal. For purchase inquiries, dealer inquiries, or more information please contact:
infoATeminent-tech.com replacing AT with the @ sign
Manual and More Links
Eminent Technology
Eminent Technology has been in business 40 years designing and manufacturing audio products in Tallahassee Florida